DIVORCE DAY!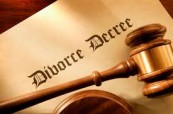 Divorce Day - Time to Untie the Knot?
SOURCE: Kirsty Critchley KBL Solicitors
The first working Monday in January is known in the legal profession as "Divorce Day" when those people who are considering a divorce, bite the bullet and seek advice from a Solicitor, having made up their mind over the Christmas and New Year period. Typically, January sees the number of divorce rates double.
Currently 42% of marriages end in divorce. The most recent data on marriage breakups shows that 118,140 divorces were granted in England and Wales in 2012.
A marriage breakdown is the most stressful of times. What seems certain and secure is no longer so, yet the process of divorce can seem rather daunting. There are various issues to be dealt with such as child arrangements as well as advice concerning joint businesses, division of pensions, property and other agreements. With the right professional advice and help from a skilled practitioner the process need not be such a legal minefield.
Charlotte Beck, Family Law Associate Solicitor at Bolton based KBL Solicitors says "The end of a relationship is an emotional time for everyone involved in it, both the parties and any children. The prospect of Divorce can be frightening, but the process need not be difficult."
The traditional way of dealing with a divorce is for both sides to instruct their own solicitors and barristers, each case is put to a Judge who ultimately makes decisions about your affairs. Unfortunately different judges have different viewpoints and whilst they will all try to be fair to each of the parties in front of them there could be considerable variation of results of cases heard by different judges.
There are however, various other methods of divorce which don't involve lengthy court battles such as Arbitration and Collaborative Law.
Arbitration is a method of dispute resolution whereby a third party, known as a family arbitrator makes a decision about your finances when your relationship has come to an end based on evidence presented. The arbitrators' final decision is a binding ruling known as an 'award'. The aim of Arbitration is to resolve financial disputes quickly, confidentially and in a less formal setting than a courtroom.
Collaborative Law is somewhat similar and involves couples working with their solicitors, all together in the same room, to reach agreement. Collaborative lawyers are specially trained in a way that leaves each of their clients in complete control of the process and gives them the opportunity of addressing relevant issues. The core of the process is the Participation Agreement. If, for any reason, the Collaborative Law process proves unsuitable or unworkable or either party does not want to continue with it they can revert to the traditional way.
It is not a soft option and it is not suitable for everybody. It is, however, worth seriously considering.