WORLD CHILD CONTACT DAY 20th MARCH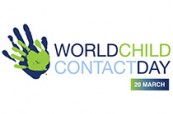 World Child Contact Day
Held annually on 20th March the World Child Contact Day is set up to highlight the plight of the millions of families who are torn apart by access, custody and contact issues.
This is a national event encouraging high profile endorsement, proactive promotion on social networks and a weighty Government lobbying campaign.
Led by Kenn Griffiths, an independent child contact specialist, the campaign aims to:
Raise awareness of the terrible impact on families and communities that issues with child contact can cause

Provide much needed advice on how to resolve child contact problems

Promote the right and wrong ways to make the first contact

Highlight the dangers of using social networks to make contact

Examine cases of abduction and the impact on families
Making headlines
This is increasingly front-page news with many cases ending in the death of children and parents, as the following three high profile cases demonstrate.
Chris Hall from Bournemouth is reported to have killed his five-year-old diabetic son and then himself, over fears he would lose all contact in a custody battle following a relationship breakdown.

Theresa Riggi in Edinburgh murdered her children Luca, Austin and Cecilia following her estrangement from their father.

Andrew Cairns in Derbyshire stabbed his partner Rachel Slack and son Auden after facing issues with contact.
Media and partnering involvement
Mychildcontact.com a website offering help and advice to children and families and is the driving force behind this initiative actively seeking the support of professional firms, organisations, individuals working in this area, parents and anyone interested in positive development to bring about best practice and positive outcomes for children. We are currently seeking:
Exclusive media partners

Personal case studies

Celebrity endorsement

Photocall

Video / podcasts

Petition to Prime Minister

Poems for a dedicated online gallery – "Missing"

ChildContact wristbands

Twitter / Twibbon campaign

Short articles, stories, forum exchanges and news items for inclusion in the mychildcontact.com website. www.mychildcontact.com