DIY DIVORCE IS ON THE WAY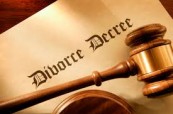 Married couples will be able to draft their own DIY divorce settlements using an officially-approved financial formula without having to fight over details in court under plans put before ministers today (27.2.14).
For many years it has been the case that couples could sort out their own divorce without using solicitors. I did exactly that way back in the late eighties. Children aside, the difficulty is sorting out the finances. But help is on its way.
The Law Commission is urging the Government to consider devising a specific numerical formula which separating couples could use to calculate how to divide their assets.
The introduction of a Government-approved divorce 'calculator' would allow couples to work out how much each should receive without involvement from lawyers.
The Commission has asked a panel of judges and lawyers to prepare guidelines on issues such as maintenance payments to enable couples and people without legal qualifications to draft financial settlements which could then be approved by a court.
Also, under proposals put forward by the Government's legal reviewer, prenuptial agreements would become legally binding in England and Wales for the first time.