FATHERS DESERVE RIGHTS TOO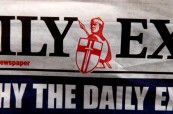 With their predilection for dressing up as superheroes and handcuffing them selves to government ministers, Fathers 4 Justice campaigners always used to strike me as a rather loopy lot.
While I sympathised with their cause, scaling public buildings seemed an unnecessarily extreme way of championing it.
Now I am a parent, I can understand why those fathers took such desperate measures. After all, if I got divorced and was allowed access to my children only at a "contact centre" while worthy social services types loomed over us, I would probably be minded to chain myself to the gates of No10 too.
Work and Pensions Secretary Iain Duncan Smith has rightly condemned proposals to deny fathers equal rights of access to their children after divorce.
The family justice review, drawn up by former civil servant and businessman David Norgrove, has recommended that there should be no legal requirement for children to have a "meaningful relationship with both parents", arguing it could lead to lengthy custody battles.
It also rejects calls for the scrapping of an existing rule which means grandparents must go to court twice to gain access to their grandchildren because they could do "more harm than good" by interfering.
What rot. If the Government adopted these nonsensical proposals (and thankfully, there is more chance of Hugh Grant being voted Father of the Year), it would surely lead to more children growing up without fathers, which is the last thing Britain needs.
While there are some excellent proposals in the 228-page report, such as increased mediation to stop so many custody cases ending up in court in the first place and a six-month limit on reaching a decision in child protection cases, it would be a catastrophic omission not to put fathers on an equal footing with mothers.
You have only to look at some of the teenagers who took part in the riots over the summer to see what can happen when children are brought up without a father.
While I don't put all of society's ills down to absent fathers, I think most people would agree that children, particularly boys, are better off having a male role model in their lives than not.
AS THE Centre for Social Justice, the think-tank founded by Duncan Smith, said when it condemned Norgrove's plans: "The bias in the family law system against fathers and grandparents will fuel the epidemic of fatherlessness in the UK. Urgent changes are required in this legislation to reflect the vital role nonresident parents play, usually fathers, for their child's wellbeing."
Now of course there will be exceptional cases where, say, violent or abusive fathers should rightly be denied access to their children without supervision but in most cases where fathers want to have an active role in their children's lives, they should be encouraged to do so.
Similarly, grandparents should not be made to jump through hoops to see estranged grandchildren as it is not their fault that the parents have divorced.
David Cameron once said that absent fathers should be stigmatised like drunk drivers. As the law stands, all fathers are being stigmatised by not having the same rights as mothers.
Fathers deserve justice and I support the superheroes out there who are fighting to get it.